Once upon a time Aliens was my favorite movie. I was 12, and it made me want to be a filmmaker. (I was 12! Shut up.) It also coincided with my parents purchasing a VHS camera, which allowed me to indulge my passion in thoroughly embarrassing home movies, all inspired by Hollywood action cinema of the 80s.
Yes, Aliens and I go way back... which I am mildy ashamed to admit today, given the havoc it has wreaked on the collective imagination of gaming culture. If you went back in time and killed James Cameron, video games would disappear... at least those with space marines. Halo would be gone, and all futuristic rifles would have normal barrels, not ones that look like skyscrapers.
Over the years there have been several
Aliens
tie-in games, a handful of which are respectable. The first one I played was Konami's
Aliens
arcade game, an awkward variant on a
Double Dragon
-style beat'em up. Before that there was
Aliens
for the Commodore 64, but I wouldn't discover it until years later, when I was researching a
book chapter
on survival horror. The C64
Aliens
was a graphic adventure-style horror game more about suspense than violence. In a lot of ways it resembled Ubisoft's first ever game,
Zombi
, a graphic adventure-style survival simulation inspired by
Dawn of the Dead
.
This should tell us something about Aliens's genre footprint, how closely it resembles a zombie survival story. If the genre template for Ridley Scott's original Alien was the slasher film, Cameron's was the zombie film. Alien was about a group of people being picked off one by one, but Aliens is basically a fortress siege movie, like Night of the Living Dead. Swap welding torches for boards and nails and it's essentially the same strategic problem. Tempo is the main difference, the speed at which the creatures move. There's a real case for Aliens being the first "fast" zombie movie, predating 28 Days Later by 16 years.
This explains why I've never been quite satisfied with even the best
Aliens
game. It's the same reason I've never been quite satisfied with even the best zombie games. The most appealing strategic aspect of the film is the defensive aspect, the problem of holing up in a series of rooms, with limited personel and resources, and having to survive. I have yet to play the
Aliens
game (or the zombie game for that matter) that captures the simple pleasures of building a pillow fort as a kid, which is what it should feel like. I just want to be dropped onto LV-426 with some ammo, food, and some NPCs, and most importantly a welding torch and sentry guns. I want to make my last stand. And I want it to be a hell of a fight.
I'd much prefer that to running through dark corridors like a moron, when anyone with a brain in their head would lock themselves in a room, weld the door shut, put their back to the opposite wall, and wait. I'd lay out all my clips in front of me, and sit there, training my gun on the door, listening to the faint blip of the tracker. Then the horrible pounding, the impossible bending metal, the teeth shining in the dark. A proper
Aliens
game would make you face how helpless you are, millions of miles from Earth, trapped in a metal coffin under a dead sun, with only a few bullets between you and these grinning nightmares from a deep, deep darkness out of time.
This shit does not happen in
Aliens
games. It
almost happens
in Rebellion's and Monolith's
Aliens vs. Predator
games. They get a lot of things right, mostly the speed and deadliness of the creatures, as well as the atmopherics and the iconic motion tracker, but they still have you running around like a moron, making "progress" like in a normal video game. Fuck that. In some ways I still pine for Cryo's awful-yet-scary
Aliens: A Comic Book Adventure
. It was a broken, unfinished piece of junk... but it stretched out the arrival of the aliens so long the dread became unbearable. I remember skulking around in the first hours of that game, fearing it was 'game over' the minute they showed up. It was.
Aliens: Infestation for the Nintendo DS is the first Aliens game I've played in a long time. At a glance it resembles Alien 3 for the SNES, in that it's a 2D side-scrolling shoot'em up. However, its design benefits from two decades of Metroid clones, which makes it a curious case of remediation. Metoid was loosely inspired by Aliens, so it must have seemed fitting to finally make an Aliens game using the Metroid template. The game has its charms, notably its collective protagonist where "health" is measured as people - a horror-themed feature I've only seen in one other game, the superb Hell Night. However, Infestation is still at the end of the day about running around... because Metroid is about running around.
I'm used to it by now. I'm not the
Aliens
fan I once was, and I wouldn't want to be. Games have had enough space marines. Still, it's a shame we've run space marines into the ground without realizing the rich systems design implied by Cameron's film. I've
argued elsewhere
that horror fiction is the best place to find blueprints for gameplay embedded in stories. Any fan of the
Alien
films can tell you with precision how the creature's birth cycle works, what weapons are good against it, what strategies tend to work. Films like
Aliens
,
Dawn of the Dead
,
Tremors
, or any monster story with such clear
rules
are ready-made game designs begging to be adapted.
The fact that the drama of these films almost always comes from a group of interesting characters forced to survive together, to build their fortress together, and eventually betray one another as security crumbles, is the real heart of such stories - and the element almost always ignored by game adaptations, even if they get everything else right. Taking all these great rules and employing them only as ways to get players from Point A to Point B is a waste, a failure to express the human pathos of the genre.
I mean, that's
why
you would adapt it, right? To make me care about characters. That's the
point
of the fucking suspense. I can't remember the plot of any
Aliens
game I've played, because even the best ones were all empty exercises in suspense, devoid of any drama. Give me characters worth defending, a stand worth making, a future worth surviving for. Don't give me douchey marines
again
.
What every single
Aliens
game forgets is that Ripley - the
civilian
- is the goddamn hero, not the fucking marines. The fact that video game developers have such a hard-on for simulating the experience of being a marine proves how utterly this industry has missed the point of the film. The colonial marines aren't cool. They aren't badass. They are stupid. Under pressure they fall to pieces - they fucking
lose
- and a civilian has to save their ass.
Those who know the film know that the character Bill Paxton plays, Private Hudson, is a fan-favorite. At the beginning of the mission he thinks he's the biggest badass of them all, but when things get hot he proves what a sniveling little coward he is. He was my favorite character when I was 12, so much so that I pushed the fact that he died to the edge of my mind. His ultimate moment, when he appears to lose all his fear and goes bonkers, slaying aliens left and right in a foaming rage, was how I preferred to remember him - a crazy, funny, awesome dude who rose above his fear to kick serious ass.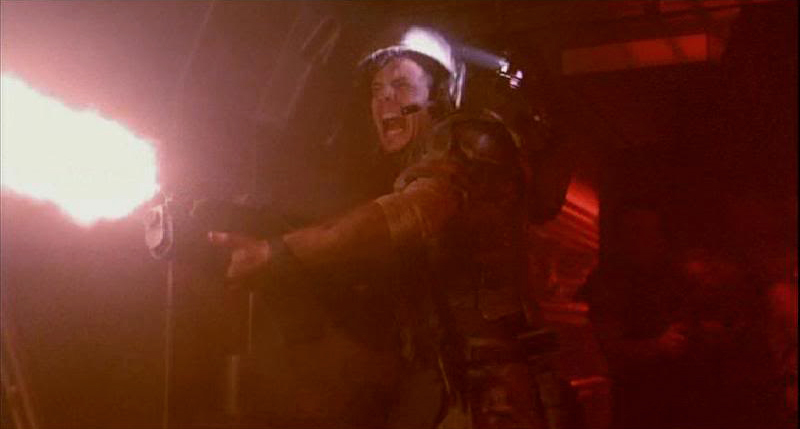 Two decades later I know Hudson was an idiot. His
pre-mission speech
, where he lists all the awesome weapons they have, reads like an
advertisement
for a new
Aliens
video game, where replicating the weapons from the film is one of the most important selling points. Can you imagine a developer saying "It's so cool! You get to play this woman, with no guns, who cleans up the mess these jerks with guns make!" to an E3 reporter... even though that's what makes
Aliens
work as a story, what gives all its survival logic weight and context?
It's clear that
Aliens
video games are largely made by the Hudsons of our industry. If only we had Ripley to put them in their place.